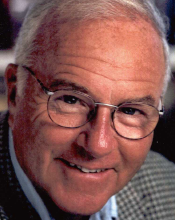 Charles E. Reilly, Jr., Chairman
As founder of In-Person, Charles Reilly, Jr., continues to draw on his four decades of experience in the communications industry by providing guidance and insight to our professional team. He is a nationally-recognized expert in developing the art of communicating effectively for business executives, political figures and media personalities. He founded In-Person Communications in 1976.
He served in the Army during the Korean War and following his release from the service joined the new television magazine, TV Guide. Subsequently he held management positions with J. Walter Thompson, Young & Rubicam and Ogilvy & Mather. He was also appointed a consultant to the Vatican's commission on communications.
Charles received his undergraduate degree from St. Joseph's University, Philadelphia, and his Master of Arts from Villanova University. He has been an adjunct associate professor at St. John's University, New York and at the Valley Forge Military College in Wayne, Pennsylvania. He is a member of the Visiting Committee, Loyola University, New Orleans.
For the past 30 years, Charles has been writing a newspaper column. He is the author of nine books, and appears as host on several television programs. He was elected to the Hall of Fame at the Infantry School, Fort Benning, Georgia, and is listed in Who's Who in America.
Charles Reilly Blog: View from the Observation Deck
After a half century in the communications consulting business (and writing a newspaper column for over 30 years), Charles Reilly offers our clients and friends some reflections based on the lessons of his life. We hope they will be of value to you, and sometimes make you smile along the way.
Our Team
In-Person Communications is led by Barbara Szala, a recognized communications coach, conference speaker and business development consultant. Our team draws from an accomplished group of communications specialists and subject matter experts.
"I believe that the objective of every interpersonal encounter is to communicate effectively AND to leave your listeners with a positive impression of you."

— Charles E. Reilly, Jr. • Founder, In-Person Communications and author of Special Delivery: The Art of Effective Communications