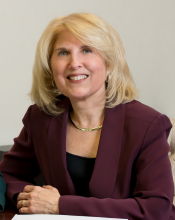 Barbara Szala, President
As In-Person Communications President, Barbara continues to take an active role in personally managing and delivering client services.
Barbara is a recognized communications coach, conference speaker and business development consultant. Her personalized coaching style encourages individuals to embrace feedback and make the necessary changes to improve their own performance as communicators and leaders.
In her role managing client relationships for our affiliated business consultants, she adds value by facilitating connections within her own broad network of business relationships. Through her guidance, clients achieve their business goals by establishing clear objectives and determining the required solutions. She makes solid recommendations for expert consulting resources to ensure that the job gets done, on time and within budget.
Prior to joining In-Person Communications in 1981, Barbara managed programs for the Presidents Association, the Chief Executives' Division of the American Management Association. Working with corporations from various industries enabled her to team with CEOs, their senior managers and key representatives on a broad spectrum of business challenges. While continuing her relationship with In-Person, Barbara simultaneously took on roles as vice president of sales and marketing with leading management consulting firms.
She has presented at numerous trade association meetings including the Financial Executives International, Risk Insurance Management Society, the American Management Association, the Financial Analysts of Philadelphia, the International Executive Resources Group, the Marketing Executives Networking Group, and other executive networking groups, such as FENG, SENG and NJENG. She often facilitates management board retreats and leadership conferences.
Barbara has served on the Financial Executives International's Career Services Advisory Council, and recently authored the book, It's All About Building Relationships: Communicating Effectively In-Person.
Our Team
In-Person Communications is led by Barbara Szala, a recognized communications coach, conference speaker and business development consultant. Our team draws from an accomplished group of communications specialists and subject matter experts.
"It is a real privilege to partner with someone who is always connecting the dots between relationships, has tremendous follow-up and who does all the 'networking' stuff so naturally. Barbara's integrity and authenticity is highly valued."

— John G. • Financial Executives International