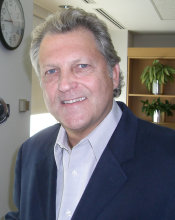 Robert Allen, Senior Consultant
Robert Allen joined our Executive Team in 2005 after many years working as a member of our advisory council.
He contributes a unique set of talents and skills to our coaching team. As an entertainment industry veteran with over 30 years of management experience, Robert brings a creative vantage point to our services. His understanding of "Image" and his insights on how to connect with the listener is invaluable to our clients.
Robert's alter-ego still heads up a nationally distributed independent record label, Sha-La Music. He works with many talented artists and musicians (including band members of Bruce Springsteen & Paul McCartney), and our clients get the full benefit of his fine-tuned observation and listening skills.
Our Team
In-Person Communications is led by Barbara Szala, a recognized communications coach, conference speaker and business development consultant. Our team draws from an accomplished group of communications specialists and subject matter experts.
"Robert understands how business works and has always shown great integrity. Our relationship has spanned almost two decades and will continue into the future. He is both knowledgeable and effective."
— Bruce Engler • Owner, Twincliff Music